Social Contribution Activity
Establishment of an Evacuation Area at the Headquarters.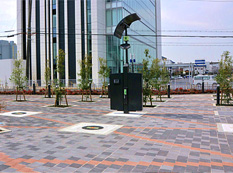 Evacuation Area at EXEDY
The evacuation area was established by EXEDY for the people of Neyagawa city to use in the case of emergency and or natural disasters. The facility includes toilets and solar powered panels that can generate power and can illuminate LED lighting.
News : 08/30/2013 " The Opening Ceremony of the Evacuation Area at EXEDY"
Solar Power Operated LED Street Light Presented to the City.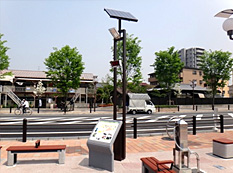 The LED light has been installed in a disaster rendezvous point within the city.
EXEDY Headquarters (Osaka) has given the city of Neyagawa a solar power operated LED street lamp to illuminate one of the city's emergency rendezvous points.The street light does not emit CO2 because it is operated by solar power that is collected on its panel from the sun and requires no additional power source.
Tree Planting Volunteer Activity.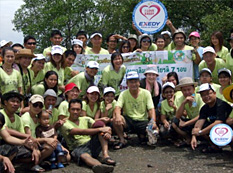 Tree planting volunteer staff
The EXEDY Thailand staff pooled together as volunteers to plant 1,000 mangrove trees. This activity and others similar will continue to be practiced in order to contribute locally to the area and to prevent the progression of global warming.
Flood Damage Rescue Operations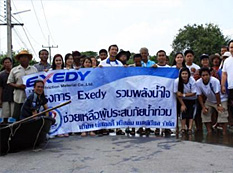 Flood damage support staff
EXEDY FRICTION MATERIAL staff had positively supported those affected by the floods by replenishing necessities to those in the damaged areas in northern Thailand.
Recognition of Aids and Tuberculosis Awareness and Prevention Activities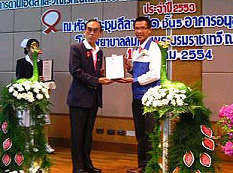 EXEDY FRICTION MATERIAL (Thailand) has been awarded in regards to their participation in educating their workers about the awareness and prevention measures of AIDS and tuberculosis.